The Winter season is almost here and that means to most adventures people, it is time to unpack the ski equipment and let`s book that flight. Call a couple of friends or solo…
In this blog, I want to share my experience with the first time snowboarding and also the beautiful country of Georgia. As you can read on the headline, Georgia, a country at the intersection of Europe and Asia, is a former Soviet republic that's home to Caucasus Mountain villages and the Black Sea beaches. It's famous for Vardzia, a sprawling cave monastery dating to the 12th century, and the ancient wine-growing region Kakheti. The capital, Tbilisi, is known for the diverse architecture and mazelike, cobblestone streets of its old town.
One of the main reasons why Georgia was on my list, is that you can enter the country with no visa. This is great news, no visa no problem. You know being from South Africa, one always have to double check on the countries status before you think to book anything. Visas can be a schlep to deal with especially when the embassy refuses you a visa application. the second reason is the flight time was a mere 2-hour flight to get there, and this means I can plan more time for my self on the adventure.
If you were wondering about the weather, well; In the interior (zone 2 on the map), separated from the western plains by some secondary mountain ranges such as the Likhi Mountains, we find valleys and plateaus lying at an altitude between 400 and 1,000 metres (1,300 and 3,300 feet).
In the capital, Tbilisi, located in the valley of the Kura at 450 metres (1,450 ft) above sea level, the climate is slightly continental and is much more arid than the coast. The average temperature in January is 3 °C (37 °F), that of July is 25 °C (77 °F). Here is the average temperature.
Average temperatures – Tbilisi
| Tbilisi | Jan | Feb | Mar | Apr | May | Jun | Jul | Aug | Sep | Oct | Nov | Dec |
| --- | --- | --- | --- | --- | --- | --- | --- | --- | --- | --- | --- | --- |
| Min (°C) | -1 | 0 | 3 | 8 | 12 | 16 | 20 | 20 | 15 | 10 | 5 | 1 |
| Max (°C) | 7 | 8 | 13 | 19 | 23 | 28 | 31 | 31 | 26 | 20 | 13 | 8 |
| Min (°F) | 30 | 32 | 37 | 46 | 54 | 61 | 68 | 68 | 59 | 50 | 41 | 34 |
| Max (°F) | 45 | 46 | 55 | 66 | 73 | 82 | 88 | 88 | 79 | 68 | 55 | 46 |
The weather is very enjoyable in winter, unlike Siberia where I experience -65C
As I arrive in the airport, I was called by police, answered a few basic touristic questions, they were happy and I proceeded to the immigration counter, where I got a nice stamp and proceeded to the car rental counter for the next. I was explaining to the lady who did my car booking beforehand that I will require a good 4×4 for the terrain I am going to will be deep in the snow and also deep in the mountains. So I got exactly what I needed and was happy. After the formalities at the airport. I had to drive to town and meet my host on the air BnB accommodation for one night. At this time it was already sunset, and peak traffic was picking up in town.
As I drove into town, the darkness was busy to set over the mountain in the back. I have to navigate in the traffic and made a few turns to late. This kept me quite busy for the next 40min to reroute and find the right route to my accommodation.
When I arrive at the building, it was quite hard to find. However, the owner did send me a few photos of what to look for. So the visual navigation was good to receive as well. Should you travel to a foreign country, ask the owner for a few snapshots. I can really help you out, especially in the dark, this is another adventure you can imagine. This building was quite old, and for some reason could not imagine the accommodation photos were related to the building, in fact, the outside of the building was deteriorated and run down in a dark alley. I parked the car outside on a nice spot, close to the entrance. I walked over into the restaurant and asked the lady there for the place that I am looking for. Yes, sir, you can follow me, we proceeded to the office and she gave me instruction via the 5 flights of stairs how to reach there and how to operate the main door the actual building. So there is no need for me to walk through the restaurant. Well, that's fair enough.
When I got the apartment front door, catching my breath and carrying my massive bag with some gear and winter clothing. I took out my phone to look for the electronic keypad number to enter, and wala the front door opened. WOW, this place is impressive! I am going to settle in for now.
Coffee was my first thing and opened the doors to a small and cute little veranda. The air was crisp and clean, keeping in mind this is peak winter now.
Here is a link to the accommodation, unfortunately, I was not able to link in a better photo link for you. But I made a plan. View On AirbnbКвартира с завораживающим видом. 
Below are a few photos I have copied and pasted to for you to review. This accommodation is very cute and you can easily sleep up to 4 people here. It is close to the main town and there are many restaurants and small shops in the areas. plus it is safe, for those ladies who are travelling solo.
As you enter in the accomodation this is the view you will see to the right-hand side. The kitchen is fully functional and has everything you need for a short stay.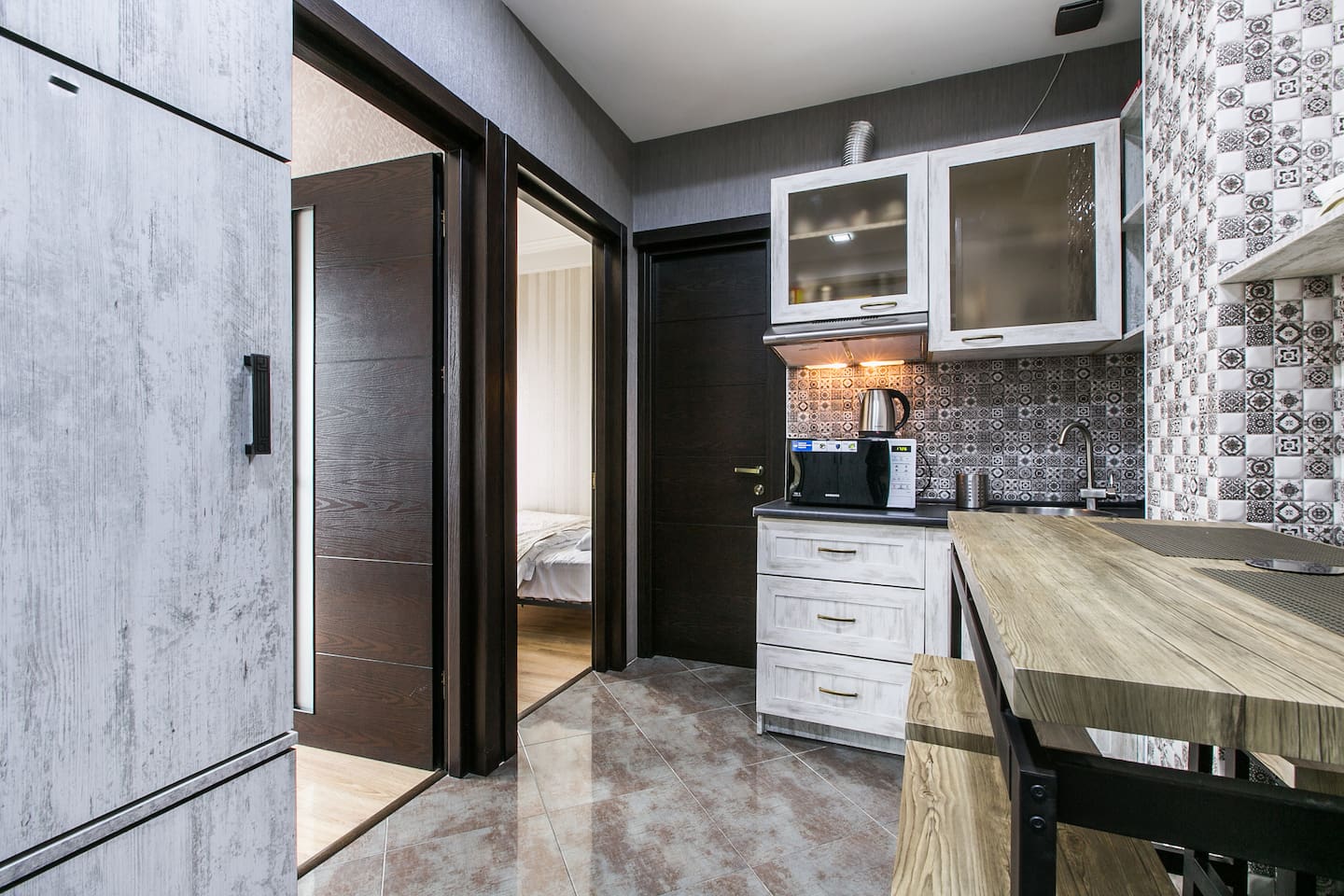 Below is the main bedroom, you enter from the kitchen side and also has a door that leads to the small but stunning view veranda.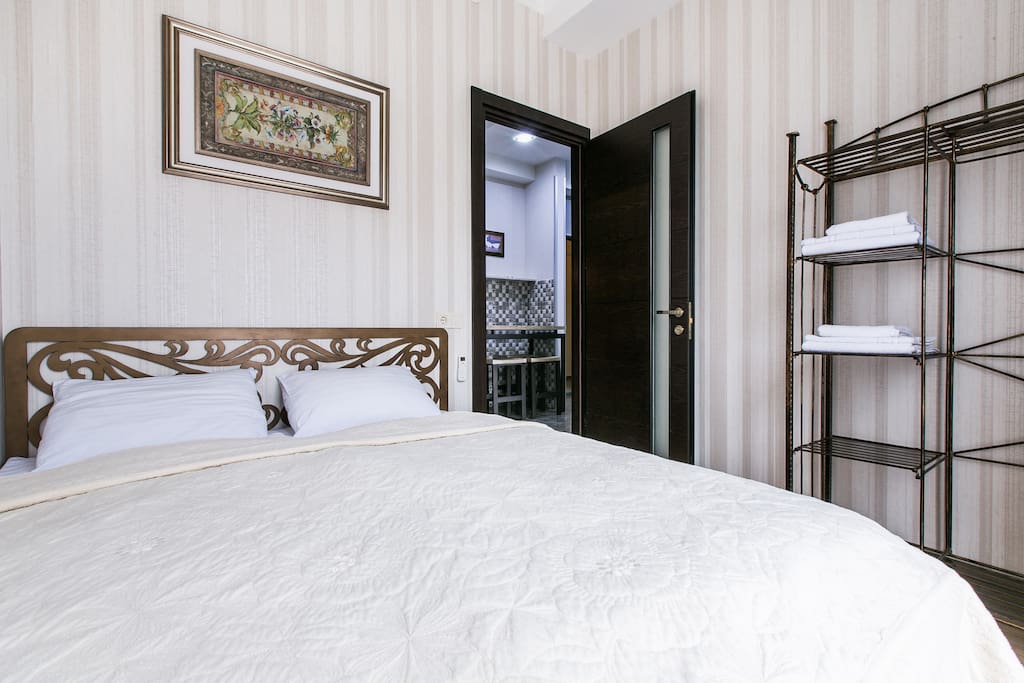 Here is the sitting room, and the couches can convert into a double bed, you can also see the chairs outside for a nice evening and a glass of fine Georgian wine. 
The bathroom is clean, fresh and there is a small clothing washer in as well for the long travels. The heated towel rail saved me.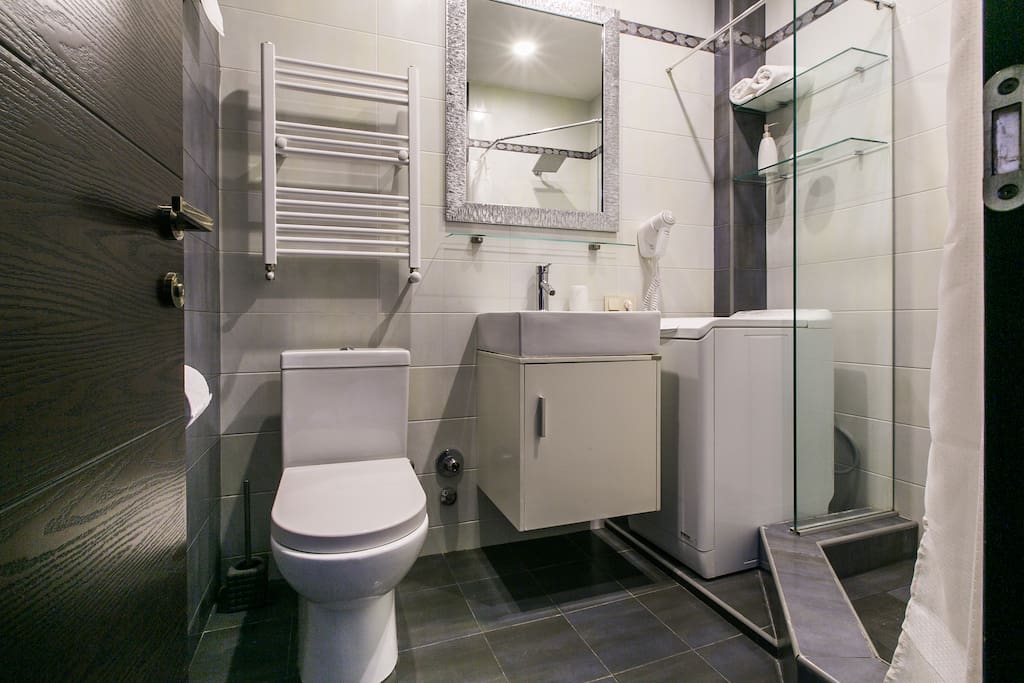 From the main bedroom, as you walk out, this is the view you will enjoy. At night you can see the yellow lights and as for me, didn't know what it was. until I saw the next morning how stunning, fresh and at this time white with snow…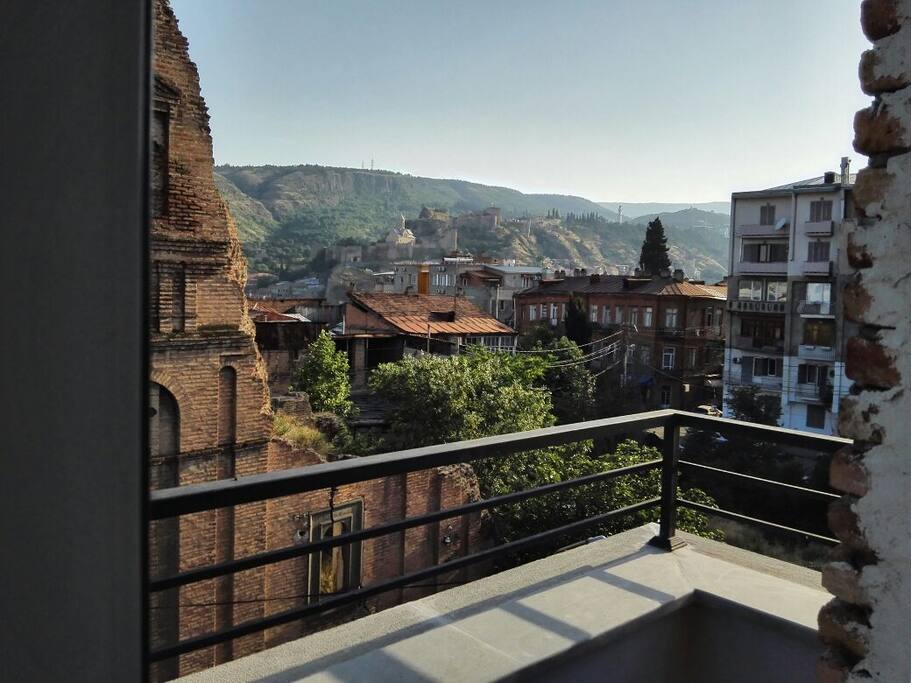 The next day I got up early and quickly went to the local shop that was only a few meters away. I should say it was the closest one and not the best one, however it was more traditional in a sense. This was a surprise to me and all the products were the opposite of what I thought to be breakfast. Well, I got all the things I wanted and headed back to the apparent. There I prepared some boiled eggs, fresh bread, figs, smoked cheese and smoked pork. O and don't forget the amazing coffee I got on the way back.
It was time to explore the city, there are so much to do and see, believe me, you gotta be fit for all the mountainous walking in town if you wanted to see the great spots.
Unfortunately, I didn't manage to go into the sulfur baths or the so-called Roman baths, this morning was cold and fresh and would have been the perfect time to visit and spend some time in the hot baths. Hopefully next time.
Setting out for the day, I started walking to a very close statue in Tbilisi.
Vakhtang I Gorgasali, of the Chosroid dynasty, was a king of Iberia, natively known as Kartli (eastern Georgia) in the second half of the 5th and first quarter of the 6th century.
He led his people, in an ill-fated alliance with the Byzantine Empire, into a lengthy struggle against Sasanian Iranian hegemony, which ended in Vakhtang's defeat and weakening of the kingdom of Iberia. Tradition also ascribes him reorganization of the Georgian Orthodox Church and foundation of Tbilisi, Georgia's modern capital.
Dating Vakhtang's reign is problematic. Ivane Javakhishvili assigns to Vakhtang's rule the dates c. 449–502 while Cyril Toumanoff suggests the dates c. 447–522. Furthermore, Toumanoff identifies Vakhtang with the Iberian king Gurgenes known from Procopius' Wars of Justinian.
Vakhtang is a subject of the 8th or 11th century vita attributed to Juansher, which intertwines history and legend into an epic narrative, hyperbolizing Vakhtang's personality and biography. This literary work has been a primary source of Vakhtang's image as an example warrior-king and statesman, which has preserved in popular memory to this day.
He emerged as one of the most popular figures in Georgia's history already in the Middle Ages and has been canonized by the Georgian Orthodox Church as The Holy and Right-Believing King Vakhtang and is commemorated on November 30th.
There is also a small church and his grave on the same site one could visit there, and this area is free of charge. However there was a lady selling flowers, and for me, to contribute back I bought the flowers and spread it out at the foot base fo the statue.
From here I walked over the bridge to the other side of the Tbilisi and was in a quest to find warm coffee to help me survive in the cold morning. You will be passing over the bridge for peace. A great modern site to see among the ancient castles and statues on the hilltop. This brings me a lot of new hope for Georgia.
I made my way up an extremely steep little road, leading to the top of the mountain here went to see, Narikala is an ancient fortress overlooking Tbilisi, and the Kura River. The fortress consists of two walled sections on a steep hill between the sulphur baths and the botanical gardens of Tbilisi. On the lower court, there is the recently restored St Nicholas church. Newly built in 1996–1997, it replaces the original 13th-century church that was destroyed in a fire.
The fortress was established in the 4th century as Shuris-tsikhe and it was a Persian citadel. It was considerably expanded by the Umayyads in the 7th century and later, by King David the Builder (1089–1125). The Mongols renamed it "Narin Qala" ("Little Fortress"). Most of extant fortifications date from the 16th and 17th centuries. In 1827, parts of the fortress were damaged by an earthquake and demolished.
There is also a cable car leading to a nearby site, which makes it easier if you are older generation. When you reach the top, the entrance of ancients are welcoming you.
Walking along the ridge is stunning and beautiful nature, the walking paths are well maintained and safe to use during the daytime.
I thought this is so nice, to welcome friends with wine. One day I will return and come to learn about the winemaking processes and the history about this. There is a fact in the museum I visited where wine fats were excavated from 8000 years ago. Imagine 8000-year-old wine fats, this is incredible!
I started walking down the long footpaths down to the centre area I started in the morning. This time around it is time for lunch somewhere with a great atmosphere.
The air is cool and fresh on my face coming down on the shadows of the trees, eventually, I ended up at this great restaurant with original Georgian food and drinks. Seems quite popular to be put on a waiting list at Samikitno Georgian Cuisine.
Below are a few photos of the food I ordered, forgive me but I totally forgot the names. No names…but the flavours where some of the most amazing I have ever tasted. So fresh and homemade per order. 
WOW, I am so full now! I only want to lay down and sleep. But there are some more to explore, tomorrow I am leaving the area and will travel to the snow mountains for adventure. Yes, please!
Before I move on to the wine section, here is more detail for you to understand the wine and production of wine. How old do you think the process is…
Georgia is one of the oldest wine regions in the world. The fertile valleys and protective slopes of the Transcaucasia were home to grapevine cultivation and neolithic wine production for at least 8000 years. Due to the many millennia of wine in Georgian history and its prominent economic role, the traditions of wine are considered entwined with and inseparable from the national identity. Among the best-known, Georgian wine regions are Kakheti (further divided into the micro-regions of Telavi and Kvareli), Kartli, Imereti, Racha-Lechkhumi and Kvemo Svaneti, Adjara and Abkhazia. UNESCO added the ancient traditional Georgian winemaking method using the Kvevri clay jars to the UNESCO Intangible Cultural Heritage Lists.
The roots of Georgian viticulture have been traced back by archaeology to when people of the South Caucasus discovered that wild grape juice turned into wine when it was left buried through the winter in a shallow pit. This knowledge was nourished by experience, and from 6000 BC inhabitants of current Georgia were cultivating grapes and burying clay vessels, kvevris, in which to store their wine ready for serving at ground temperature. When filled with the fermented juice of the harvest, the kvevris are topped with a wooden lid and then covered and sealed with earth. Some may remain entombed for up to 50 years.
Wine vessels of every shape, size and design have been the crucial part of pottery in Georgia for millennia. Ancient artefacts attest to the high skill of local craftsmen. Among vessels, the most ubiquitous and unique to Georgian wine-making culture are probably the Kvevris, very large earthenware vessels with an inside coat of beeswax. Not only kvevris were used to ferment grape juice and to store up wine, but also chapi and satskhao; others yet were used for drinking, such as khelada, doki, sura, chinchila, deda-khelada, dzhami and marani.
The continuous importance of winemaking and drinking in Georgian culture is also visible in various antique works of art. Many of the unearthed silver, gold and bronze artifacts of the 3rd and 2nd millennia BC bear chased imprints of the vine, grape clusters and leaves. The State Museum of Georgia has on display a cup of high-carat gold set with gems, an ornamented silver pitcher and some other artifacts dated to the 2nd millennium BC. From classical Antiquity, Georgian museums display a cameo depicting Bacchus, and numerous sarcophagi with wine pitchers and ornamented wine cups found in ancient tombs.
From the 4th century AD, the wine has gained further importance in Georgian culture due to Christianisation of the country. According to tradition, Saint Nino, who preached Christianity in Kartli, bore a cross made from vine wood. For centuries, Georgians drank, and in some areas still drink, their wine from horns (called kantsi in Georgian) and skins from their herd animals. The horns were cleaned, boiled and polished, creating a unique and durable drinking vessel.
During Soviet times wines produced in Georgia were very popular. In comparison with other wines from Moldavia and Crimea that were available on the Soviet market Georgian wines had been more preferable for Soviets. In 1950 vineyards in Georgia occupied 143,000 acres, but in 1985 already 316,000 acres due to increasing demand. In 1985 wine production was 881,000 tons. During Mikhail Gorbachev's anti-alcohol campaign, many old Georgian vineyards were cut off.
Georgian wine has been a contentious issue in recent relationships with Russia. Political tensions with Russia have contributed to the 2006 Russian embargo of Georgian wine, Russia claimed Georgia produced counterfeit wine. It was an "official" reason, but the instability of economic relations with Russia is well known, as they use the economic ties for political purposes. Counterfeiting problems stem from mislabelling by foreign Producers and falsified "Georgian Wine" labels on wines produced outside of Georgia and imported into Russia under the auspices of being Georgian produced. Some winemakers in Georgia have also been known to import grapes and produce "falsified" Georgian Wine, leading then defence minister Irakli Okruashvili to note in 2006 that "[He thought] several wineries that are still producing fake wine in Gori should be closed". The shipment of counterfeit wine has been primarily channeled through Russian managed customs checkpoints in Russian occupied Georgian territories Abkhazia and South Ossetia, where no inspection and regulation occurs.
Georgia is optimistic its recent Association Agreement with the European Union will expand its export markets and reduce the risk presented by any future unilateral embargoes by Russia.
From here I walked back to the area I saw the Roman ruins and Sulphur Baths. There was a museum I wanted to check out. Belao are the fresh excavations, and they reach down to almost 3 stories underground. That is how old they are. with the years of rubble and new building on top. Here are more details on the site.
Archaeologists are continuing their search for ancient artefacts at a central Tbilisi temple after uncovering ancient relics dating back to 200-300 BC.
The scientific research is being carried out in the courtyard of The Holy Forty Sebastian Martyrs Temple, located in the Abanotubani district in old town Tbilisi. This area is known as the sulphur bath district; numerous springs flow down the valley and the natural hot water is used in several bathhouses that still operate today.
During the dig, unique artefacts and an ancient bath dating back to 200-300 BC were discovered near the Monastery. Archaeologists noted an interesting feature of the bath was that it was connected to the nearby sulphur springs, which filled the bath with naturally warm water.
Officials said archaeological digs first began in the area in 1998 but were halted several times due to lack of funds. However several days ago, with the support of Tbilisi City Hall, the research resumed.
City Hall officials said as well as experts, up to 20 students were involved in the research works.
The significant part of the dig is scheduled to be finished before capital enjoys – Tbilisoba – an annual celebration held at the end of October that marks the diversity and history of Georgia's capital city Tbilisi.
A special ceremony was held yesterday to mark the renewed restoration of archaeological works at the Temple. The occasion was attended by Tbilisi Mayor David Narmania and other officials.
You can use the name: Forty Martyrs of Sebaste, when you are in town and look for the Google link.
I bet you guys can't wait to start on the actual snowboarding details right? 
So let's dig into the trip. The next morning was fresh with snow and cold, colder than the previous day. I have also realised that I forgot my ski clothes…Well on the route I found was looking for a few places but most was still closed. I figured out, Georgia is actually a very popular Ski destination and there should be a few around. I found one on the main road to the ski area and stopped. They were still closed, then I waited for them to open.
You can find them here on the map: X TREME Website. Directions Address: Didube-Chugureti, Tbilisi, Georgia Phone: +995 322 39 79 99
I got all the gear I needed and added the next stop on the mobile. All the way to the ski resort, the popular place I am going is Gudauri ski resort, check them out on Google.
When you look online where to book, ask your self if you have your own transport. If not, then look for something right up close to the ski slopes. There are also other accommodation that runs a shuttle every so often from the sloped to the accommodation. However, with your own transport, you have more freedom of choice basically. The best for me was, Hotel Good Aura the do service meals, and have a great bar. But next time around I will surely book in advance and look for other accommodation right there by the ski lift. This is also more expensive.
Keep in mind to bring lots of your own snacks and favourite drinks and wine or beer. There is only one small grocery store in the small town.
Below are a good map the red arrow indicating the main ski lift section, you can also buy passes here, rent your items, drink, dance and eat good food after an icy snow path. There is also a small shop for basics in this same area.
Link to the main ski pass you will require this link if you are driving your self, like me. On Google maps, you can actually zoom in and see other accommodation. Check them out.
After a fun drive, in the mountains covered with snow and ice. From some area, one could see the small streams still running from the mountains. Be careful if you haven't driven on small roads with extreme curves. Your car also should be powerful to ver take truck in the areas, so be warned the drive it is very risky! But so beautiful to see the white covered mountain passes.
Checked into the hotel late afternoon. The sun was setting quite quick in Winter. The process was easy and before I could see I was in the warm shower.
Next morning, the whole team welcomed me at the breakfast table. Be patient they people around here only start late in the morning. I noticed this when there was no water kettle in the room, and the kitchen staff was still nowhere to be seen at 7am. So I filled the kitchen kettle and made some nice fresh coffee.
But the food was great and traditionally served. After breakfast, the barman called me and the rest of the guests over to try some of his new CHA CHA, before we all head off the ski slopes. He explained the tradition of Georgia and how they make CHA CHA… He poured a very generous cup FULL and saluted us for a great day of fun in the slopes. I slammed it down and could feel this stuff is no joke! And then he said, well the second one will keep you safe in the cold snow, and we slammed down another one.
By this time I was feeling super hot and sweaty…I quickly made my escape to the room to prepare for the day. Not another CHA CHA, this will make me fall down LOL
I got to the slopes, where you can find al sort of rental gear, shops, restaunrants, and bars… and didn't know what to do, keeping in mind this will be my fist time ever to snowboard. First, I want some nice and warm gluwine to warm up from the icy wind.
I had a chat with a few guys there, well most was Russian and they thought I was Russian, so there seems to be quite a language barrier. IN broken English I got good information about where to rent equipment. There are many and the rental shops are so busy. The process is natural, keeping your passport ready for a copy, small deposit and off you go. While I was organising my self with the gear. The gear needed to be was, Helmet, Eye goggles, Board and shoes…had a tough time to find a size 46…but got it done. I had a chat with one guy and guess what? He spoke excellent English and was a seasonal instructor moving around the globe following the winters. This was so cool !! My day was made. If I remember correctly he was from Ukraine and had a keen interest to ski in Africa somewhere on a ridiculous mountain, well that was his bucket list.
I met him outside and had a discussion. We agreed on the terms and price and immediately started. He briefed me on the board and the design and how it all works gave me some tips and hint on how to do this…all theoretical right. Damm this sounded so easy and I thought I could be on my board in no time. 
We moved over the beginner's slope. He showed me how to fit all the gear properly, and the key advantages. First, I had to only stand and keep my balance, which was at first quite tricky with the snow and ice underneath.
And I kept on trying and trying, my progress was good and he suggested we moved up a little to gain more speed and learn more control on the front and back.
I was getting tired so fast, the air was thin and all day long I walked up to the hill, slide down, fall down, get up fall down, get up, slide down, get up, glide down, fall down, get up, and then walk all the way back just to redo all of this…I thought fuckit, it was going to be easy! I urged for a break to get some coffee and we met up an hour later. Again for the same process.
By the end of the day, I was super tired and he said, see you tomorrow for more fun. I almost told him to get the fuck out of here I am not coming back…hahaha but as any good student will do, I there the very next morning, after the same ritual of CHA CHA and breakfast.
Next morning I was back to get more falling on my ass and wiping snow into every possible place in my body. My body was hurting from the previous day, but I was back and ready for actions. Back to the rental shop, got fresh gear and met up with my trainer for more.
We headed over for a coffee and chat, reviewed the details of yesterday and run the detail for this day and what he has in plan for me. He smiled and said, at the end of today we will go to a more advanced track to check how you learned…good student or bad student in the Ukraine accent. I was just laughing, and agree with him.
I also headed to the tube slide for some fun!
The day was great and it was time to head to something bigger now.
After lunch we got some ski passes and headed to the elavator…i was feeling very nervous and didn't know what was waiting for me or how insane the slopes will be. First, we accended with a closed ski lift and then got to a huge flat area with hundreds of people, cafes, resting places…this place looks like fun, it was so trendy and typical of a ski resort. As is the most of the people were hiding here all the time !! I told him he should have brought me here earlier on. It's not so dull and boring as at the bottom. He smiles and said you'll soon see why.
Below are some breathtaking views of the mountains, I love this view so much.
is by far my most favourite video clip of nature!
The air is cold but fresh, you could see the snow covered mountains and the feeling is the top of the world. The air is thin, so breathing is big deal if you not use to this like me, previously I travel from a country located right next to the sea. Imagine that.
We did a few small turns and slopes, I have managed to gain better experience and with his expert knowledge through me some great tips he has learned over the years. I basically copied and paste. and did very well.
We took another, ski lift and accended hire into the mountains. From there I knew what goes up must come down and the terrain was EXTREME.
We have reached the top and now getting ready with the gear. I felt some strange and marvellous feeling in my stomach as we sit there chatting away on the strategic move we are planning.
The route down was so much fun! I took it slowly and my trainer was with me all the time. There was a few time I ate snow LOL but the fun was great. We descended all the way to the secondary area of the ski lift and took a break there talking about the feeling and how comfortable I am. He said are you ready to go down with the next slope? There is no turning back and once you started you have to complete the route.
Well, I cam to Georgia to snowboard so let's have fun! 
I got ready and we proceeded to the next decent, and I saw there is a monster of a drop and didn't know how to approach the drop, as we slowly started I kept on falling down and falling down, my trainer as with me all the time, yelling at me like a real rugby coach before a serious match game.
All the way down for the next 50min! I was up and then down on my face, then up and then down on my ass…I couldn't believe how bad I was doing, just an hour before I was the new world champ. He told me to relax because the slopes are so intimidating, I fear for falling down and then the thought becomes the action. The fall is a result of the brain, preventing me not to go to fast and loose control…maby even fall over someone else or someone will even ride over me.
I tried and tried and got used to the yelling in the background, but that I wat I needed for inspiration. As I saw the end in sight, I knew it is only a few more falls and then the day will be over.
The whole day was sooner over than I was could think, by sunset I was already back up and ready for the hotel. The past few days were great! And I only have tomorrow half a day to wrap up my skills and become pro again, or back in my mind world champ!
The evening came fast, I enjoyed a great dinner and in bed after a super warm shower to warm up the places where all the snow sneaked into.
Guess what the next morning? the same Ritual as every morning, breakfast with CHA CHA to the room and off to the slopes.  This time around I was going to enjoy the light slopes and have fun.
I packed all my gear and checked out of the hotel.
Back tot he rental shop got my gear and siped on a coffee watching the people moving around. The atmosphere is great to see so many travellers from far and near, old, young everyone is there to ski and eat some snow. I asked around where could one find an easy route and one guy pointed to me to the back where most of the people with my skills level are going to. So, I joined them and made the most of the trainer's advice for the day.
Well, unfortunately, the day has come to en and it was time for me to pack up an head off the airport. a long road waited for me and I still had to return the rental car.
Saying good bey was hard, I have really enjoyed my time here and learned so much about snowboarding and the trick to that. Believe me, it is not as easy as the movies or youtube makes it.
Ready to go, and headed off to the airport. Had to wait for the car rental company to check all the details and them where late. As I rushed into the airport and reached the counter, I was told the flight is full and can only get onto the next flight. Well nothing to do at the airport, so I went outside and got a taxi driver the take me to the mall, he spoke no English but when it came to payment he screwed me over big time. I slammed the door and walked off. Got into the mall with all my gear. Grabed a coffee and booked a movie, that was in Russian. LOL, it was fun and I made up my own story up.
Hanged around the mall for a few hours and then another ripped off taxi to the airport. Eventually, I was so tired and almost fell asleep next to the check-in counter. Got onto the flight and made it home…
Georgia is cheap and fun, the infrastructure is good and the city is a vibrant place to be in, in the day and night time. I found it very safe there with no thought, however, I did see only a very few homeless people. This is normal for me. But for the rest of you. Book and have fun !! You will love the food and wine, do book a wine tour and fall in love.